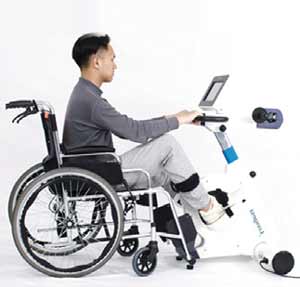 Guangzhou Longest Science & Technology Co., Ltd. was established in 2000 by Mr. Luo - the company's General Manager. Longest Science & Technology Co., Ltd. is now a renowned manufacturer and marketer of physiotherapy and rehabilitation specialized in the development, production, and sale of medical aesthetics devices, including Radical Extracorporeal Shockwave Therapy (ESWT) Interference and Vacuum Therapy, Magnet Therapy, and Pressotherapy. Researching and manufacturing physiotherapy equipment for more than ten years, the company has become an expert physio and rehab-solution provider for customers globally.
Guangdong Hi-Tech products were recognised in 2011 and given several awards, including National High-Tech Enterprise 2012 award authorised by MedicalEC, ISMST in 2014, and is the first listed subsidiary in Rehabilitation Equipment. Longest's healthcare equipment offerings include air compression therapy, extracorporeal shock wave therapy, and electric muscle stimulation therapy devices when discussing healthcare equipment. Physiotherapy and medical aesthetics are GZ Longest's current areas of expertise. Air Compression Therapy LGT-2200 L increases blood circulation, MStim Arth LGT-235 treats knee osteoarthritis, PowerShocker LGT-2500 promotes cell metabolism and reduces pain quickly, and PowerShocker LGT (Config.III) relieves minor muscle aches and pains. Their other physiotherapy products address long-term muscular discomfort and minor illnesses, musculoskeletal ailments, and improve neuromuscular function.
Medical Aesthetics includes a variety of products such as Air Compression Therapy LGT-2200WM, PowerWave LGT-2500F, PowerWave LGT-2500S (Config.II), and PowerWave LGT-2500S (Config.III) that deal with skin tightening, body shaping in the legs and abdomen, improves skin elasticity, and stimulates circulation in every layer of the skin, vessels, connective tissue, and muscle, as well as other products designed for beauty and weight loss that are included in this category.

Guangzhou Longest Science & Technology Co. ltd. established itself as one of the country's leading providers of healthcare products, and drives production with superior quality and a spirit of excellence. The production system is supervised by ISO 9001 and ISO 13485 medical device quality management system. Longest has established itself as a high-quality physiotherapy equipment supplier who combines exemplary research and development capabilities, strict quality standards, a wealth of organized product systems, and houses professional service teams.

Every step of the process, from product testing to problem analysis, complete market feedback, full establishment and compliance with stringent quality standards, Longest drives production with an extraordinary spirit of workmanship, all in an effort to protect the health of every patient. They supply top-notch physiotherapy equipment that meets all aspects and quality criteria. They have a world-renowned reputation, world-class research and development expertise, high-quality standards, and an abundance of well-organized product systems.

Integrated with scientific research, development, and production, Longest has always stood at the forefront of the industry, striving to meet the increasing rehabilitation needs of health care equipment for society and its users. In keeping with the company's motto, "Future made by technology, reputation generated by quality, value created by brand," Longest maintains its emphasis on the purpose of 'For Consumers' and continues its pursuit for the health and delight of customers.